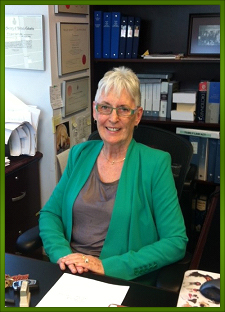 Kelowna Family Law Lawyer
Margaret Gail Miller: BA, LLB
In over 30 years practicing family law exclusively, Gail has acted in 5,092 cases to February 1, 2019.
Over 90% of those cases have been settled by:
Guiding clients through court settlement processes (judicial case conferences, judicial settlement conferences).
Encouraging clients to attempt the mediation process which does not pre-empt their right to resort to the court if it doesn't work, without having to start over with new counsel.
Negotiating settlements directly with the opposing party and their counsel, concluding with un-litigated court orders by consent of the parties.
Any combination of those approaches (before resorting to the trial process in courts).
If "Alternative Dispute Resolutions" (ADRs) including the "Collabrative Law" process have proven costly and un-satisfactory, or court proceedings have not resolved your issues as you were advised, Gail has un-matched experience in taking clients, firstly, through the various settlement processes, and, if unsuccessful, masterful conduct of the trial process for court ordered resolution.
Gail's success record has seen hundreds of clients experiencing her professionalism and advanced courtroom skills, referring family and friends alike to her when "Things just aren't working".
We invite you to contact our offices - we will help you to a timely resolution of your issues at competitive hourly rates.